If you're looking for some style, Roman blinds could be for you. They can be used to add that touch of warmth to your home or maybe you're just looking for a bit of panache. Let's have a look at how you can make them work. 
Are Roman Blinds The Best Option For My Home?
In terms of flexibility, Roman Blinds offer every home a chance for an excellent interior design. You can mix and match them with curtains if you require both so you don't miss out on either too.
In terms of where you should fit the blinds, you should consider the size of the window you require the blind to cover. If you have a small window, it may be best to have the blind fitted on the outside of the window recess, this prevents you from losing as much light from the window and also gives the illusion of a bigger window.
Roman blinds are very functional, practical and require little maintenance to fully dress your window. Even if you have a bay window, Roman blinds can work, Talbots made to measure Roman blinds can create a stunning effect. 
When it comes to shop-bought blinds, this can work but there are some important things to factor in.
Shop-bought Roman blinds aren't necessarily of lower quality but they can be risky in terms of getting the right fit. Awkward windows such as bay windows might not support the normal size.
With roman blinds, the saying, "You get what you pay for" really does apply. There is a noticeable difference in the fitting when you opt for made-to-measure Roman blinds. Your visitors may notice the job hasn't been done properly if your blinds don't correctly dress your window. 
Trust Talbot & Sons To Create The Perfect Roman Blinds For You
Since 1970 Talbot & Son have been able to provide a reliable, tailored service to our customers. Whether you are a homeowner looking for perfectly fitting blinds or a business looking to revamp your office, we can accommodate you. One seamstress will make your Roman Blinds from start to finish, right here on our premises, taking pride in their work and enjoying the satisfaction that comes from creating something beautiful. We believe this ensures that you receive the best quality possible.
Talbot & Son offers Roman blinds made for you, meaning you can get the style you need. It doesn't matter whether you need a particular colour or something more complex such as motorisation. Our team also offers additional services for Roman blinds such as decorative detailing, trimmings, bordering, and beading. You're guaranteed to achieve the perfect finish for your home or office with our bespoke blind designs.
Check out our reviews and contact us today on 01624 629940 to get the look you need.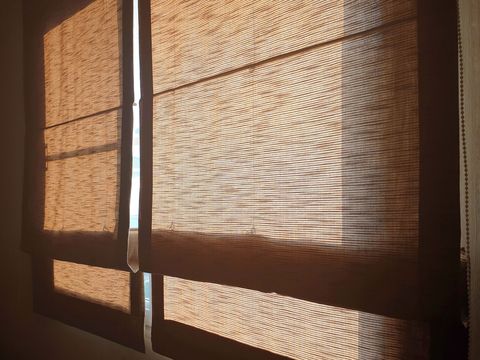 Conclusion
Roman blinds are a great choice for your home. To get the best finish, consider made-to-measure blinds from Talbot & Sons to start your journey towards your dream home. You can discuss pricing with our team so you can achieve something special for your home at a price you can afford.