Blinds, along with curtains, are often described as the perfect way to finish a room. While poor-quality blinds make even the best-decorated room look average, beautiful tailor-made vertical blinds can create the perfect style in any room. This makes them a great investment for any homeowner. They are an affordable type of blind but their sophisticated, elegant look is much more valuable than their reasonable price tag suggests.
What Are Vertical Blinds?
Vertical blinds are one of the most common styles of blinds on the market. They are made of fabric vertical slats which are weighted at the bottoms. They can either draw to each side or to one side and can also be tilted with the operating wand to control the amount of light entering a room. Vertical blinds are extremely easy to operate.
Vertical blinds come in a huge range of fabrics and colours making them the perfect choice for almost any room. It's very easy to find a good colour match to your existing palette, which can be difficult to achieve with other types of blinds. While vertical blinds can be made in metal, or even UPVC, the more common soft fabric finish brings warmth to a room. The sophisticated aesthetic of vertical blinds will add a touch of class to the interior of your home and can even create the illusion of making small windows look taller thanks to their vertical design.
They can be used in humid environments without being damaged making them perfect for kitchens, bathrooms, and conservatories. It's simple to clean them with a dedicated fabric cleaner or even remove them from the window and wash in the washing machine if required.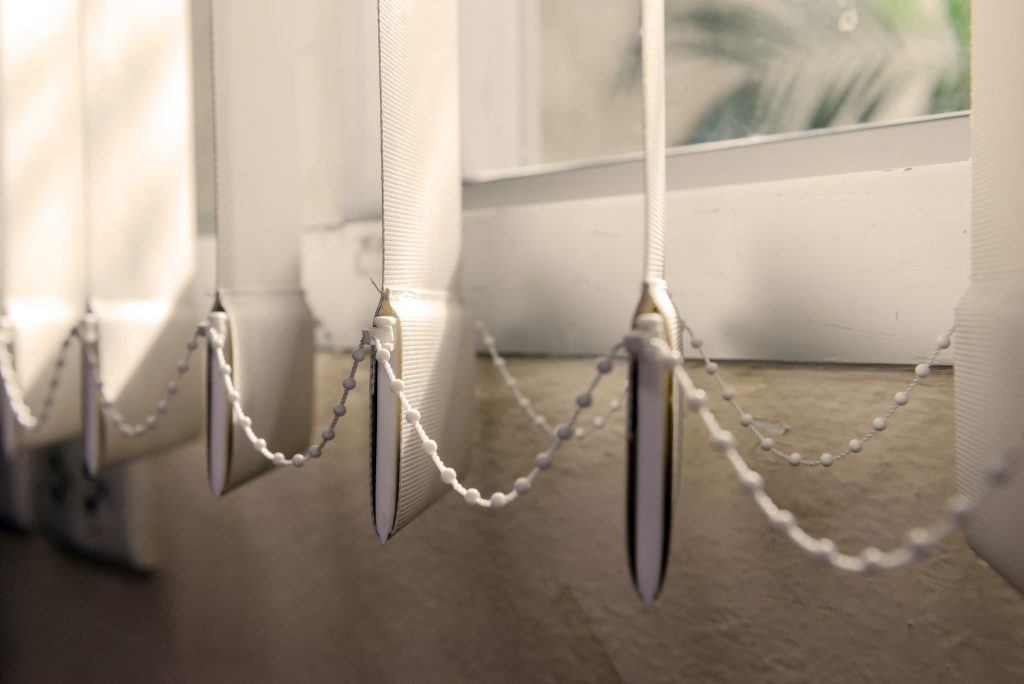 The slats can be replaced individually if the blinds become damaged, making them an excellent choice for families with young children or pets who may inadvertently break them. For homes with patio doors or floor-to-ceiling windows, vertical blinds can be made in any length so they offer full privacy on very large windows.
Vertical blinds offer easy customizability too. Should you decide to change the colour theme of your room in the future the louvres can be removed individually and swapped out for a different colour or even a different material without replacing the tracking system. As well as the blinds themselves offering a large degree of personalisation, the tracking systems can also be adjusted to suit your exact needs, we have the ability to cater for everything from curved bay windows to sloping windows.
If you would like to find out more about how we, Talbot & Son, can help you find the perfect vertical blinds for your home, please get in touch on 01624 629940 or head over to our contact page for more details.