Do you have VELUX windows installed on your roof? If yes, you are not alone as these windows have become increasingly popular for homeowners all over the country. If you are considering purchasing blinds for your windows you should find this article handy.
VELUX Windows
VELUX windows have been around for a long time, with the first one being installed on a school roof more than 75 years ago. The company has been growing at a steady rate ever since and they are the world's leading manufacturer of rooftop windows.
VELUX Window Blinds
You may not have considered blinds for VELUX windows but it is worth giving it some thought. VELUX blinds come in many different varieties, and if you like the idea of having blinds installed,  you're sure to find a style you like. The style you choose will add another dimension to your rooftop (both from the interior and exterior perspective) and this small change can make a big difference to the overall look of a room.
But it is not just about style. By installing VELUX blinds you allow your household far better control over the light you let into the connecting space. That way you can increase the chances of everyone feeling comfortable, adjusting the blinds where necessary so that the room is neither too bright nor dark. And remember, by controlling the light you also control the heat!
You can have VELUX blinds set up that would need to be operated manually, or if you prefer there are plenty of remote control operated blinds that you can purchase for your rooftop window. You also have the usual material options that you would expect to find for any other type of blind, which again will affect the style, warmth and light.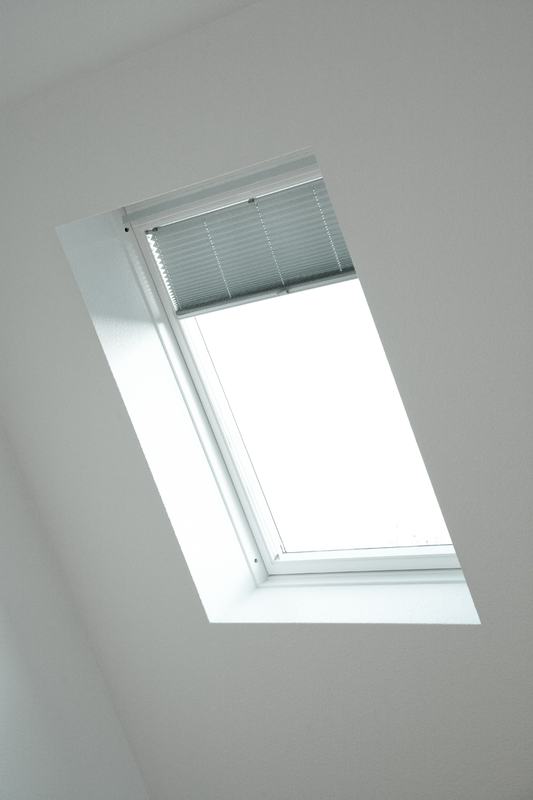 The important thing with blinds for VELUX windows is that you purchase some that fit the unique shape of rooftop windows. If you are ever unsure, look for blinds marketed especially for VELUX windows. 
How to Find the Right VELUX Window Blinds
There are always lots of choices when you go shopping for window blinds, and trying to shop for VELUX windows is no different.
To make sure you purchase the exact fit required, each Velux window has a small metal plate on the inside of the frame when it is opened which gives you the window model number.  All you need to do is give that code to us to enable us to give you a quotation, we don't even need to arrange a measuring!   If you would like to find out more about how we can help you find the perfect blinds for your Velux windows, get in touch today. Give us a call on 01624 629940 or head over to our contact page for more details.