What Blinds Are Used In A Kitchen?
The kitchen is the place we spend a lot of our time, whether it's relaxing at the table to unwind after work, cooking a nice meal, or spending time with our family. That's why many of us want our kitchen to look fabulous, which you can achieve with elegant kitchen blinds.
Choosing the right style for your kitchen windows is not an easy task, you need to factor in the colour scheme of your kitchen, the interior decor, and what type of effect you want from your chosen blinds. Practicability and style both need to be taken into account when making your selection.
The most popular blinds for the kitchen are:
Since roller blinds for kitchens offer some appealing benefits, including a sleek design, durability, and flexibility, they are seen to be one of the go-to choices for any window.
Roller blinds are very safe blinds as they operate using hardware that is completely safe and poses no threat to pets or children. They are also an excellent choice if you're looking for something more affordable without having to sacrifice on quality.
They offer a more minimalist or simple style and are also available in a huge range of designs, colours and materials, including wipeable fabrics which are ideal for kitchens.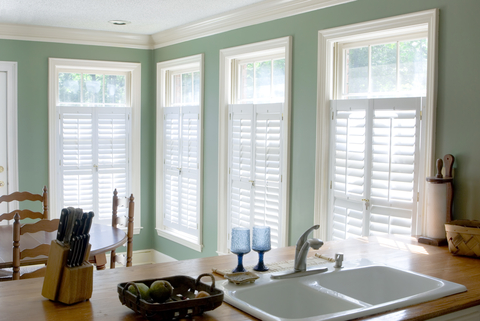 Venetian blinds are a popular choice when it comes to selecting blinds for your kitchen.  Venetian blinds are available in either metal, wood or faux wood in a huge range of colours and a price point to suit any budget.
This blind type allows full sunlight control. You can adjust the slats to accommodate your level of light and also pull them all the way up to leave the window clear.
A different approach would be to purchase shutters for your kitchen. They offer fantastic temperature control, and you can adjust the level of light with ease.
They are quick and simple to clean with just a damp cloth. A duster will also remove any dust that has built up through the day. 
Trusting Talbot & Sons To Help You!
Operating now for over 45 years, we at Talbot & Son offer a fantastic service to all our customers. We have years of experience in the field when it comes to helping you choose your dream kitchen window dressings.
We are based on the Isle of Man and our showroom is packed with high-quality products. Our team offers a tailored service that creates beautiful bespoke kitchen blinds made to measure for your home.
Give us a call on 01624 629940 or visit our contact page to learn more about what we have to offer.