Selecting the best blinds for children's rooms can be a challenge. Your children need something bright and exciting. But you also need to consider the practical side of window blinds for children's rooms – that they need to keep out the sun.
Blinds are a great option for a children's bedroom. They offer an extra chance to be bright and colourful and even add to the theme of the bedroom.
However, they also have practical benefits. They can keep out the sun so that your child has a great place to play and can block out external light at night to give them a long, restful night's sleep.
When it comes to selecting the best blinds for children's rooms, there are a few options to consider.
Roller Blinds
Roller blinds come in multiple colours and designs so they can match with any room and will enhance your design. You can even find bespoke prints or companies that will print your own design onto a roller blind.
A roller blind is durable and pretty difficult to break, which is great for a child's bedroom. They also come in waterproof and wipe-clean materials so they're easy to keep clean from mucky fingerprints.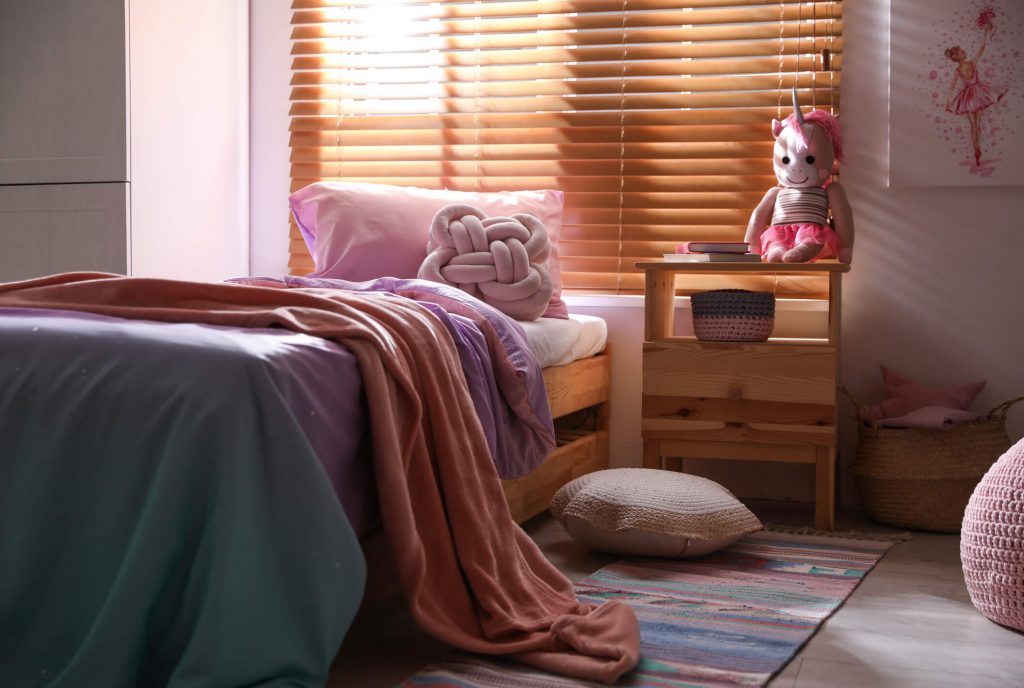 Blackout Roller Blinds
Blackout roller blinds are the perfect option for window blinds for children's rooms. They offer the same benefits as a traditional roller blind; in that they are easy to clean. But they also come with the added benefit of an extra layer or thicker material. This means that your child will be able to get a better night's sleep with no external light creeping in. It's a great option for giving parents and children a bit of extra rest.
The thicker blind also contributes to muffling the noises from the road and keeping in the heat.
Roman Blinds
When your child gets a little older, you may want to switch to a Roman blind. These are perfect for the more sophisticated bedroom that your pre-teen is bound to ask for. They come in fewer patterns due to their design, but are thick, cosy looking material that's ideal for keeping the heat in.
Roman blinds are the perfect option to replace curtains, providing the same blackout benefits, but with much less fabric to keep clean.
If your child's bedroom needs a rework, Talbot & Son can help. They provide quality blinds on the Isle of Man and can make them bespoke to your home with added trimmings, buttons or unique designs. Your child will be proud of their new blinds, creating the wow factor for their visiting friends. Talbot & Son can even create matching cushions, lampshades and bed runners to match, giving the room that designer touch.  If you dream of creating awe-inspiring and exciting designs for your child's bedroom, contact Talbot & Son today to discuss your ideal patterns, fabrics and bespoke added extras.