From everyone here at Talbot & Son, we hope you're staying safe and well. Social distancing is hard for all of us, we are all missing our friends, families and work colleagues but it is essential to help us get through this pandemic with the best possible outcome, so, for now, let's continue to stay safe and protect those who are closest to us and those who are vulnerable and ultimately, save lives.

During these unfamiliar times, -you're probably getting used to the four walls of your living room, and every other room in your home as well. A fun way to rejuvenate your home and garden is with awnings and canopies ready for springtime. If you're lucky enough to have a garden with your property, we have some advice on how to transform your living experience.

Here are some of the advantages of awnings and canopies:
Advantages of Awnings & Canopies
With warmer spring weather on its way, you have the opportunity to transform your garden into an exciting new hub of your home. An awning extends your home into your garden. Enjoy the comfort of your home in the sun, as well as give yourself extra shade to sit in.

One of the biggest advantages of awnings and canopies is they give you shade even on the hottest days in springtime. If we suffer spring showers this year, you can also make use of your garden and patio with cover for protection. Awning and canopies ready for springtime will give your home and garden a new lease of life.

Canopies and awnings can also work for your business premises. This is something to plan and look forward to when the lockdown is over. Our canopies and awnings allow you to create a dynamic work environment across the inside and outside. Use these fittings to transform the exterior of your business, as well as protecting stock.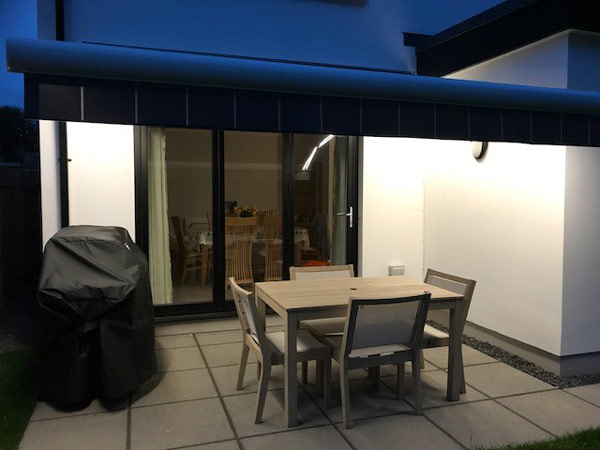 Awnings & Canopies Ready For Springtime
Whether you can install awnings or canopies in your garden now or not, they are an exciting thing to plan for. In times like these, it can be beneficial to have things to look forward to. Home renovation is definitely something you can plan and look ahead to.

If you think your home and outdoor space would benefit from an awning or canopy for spring and summer, get in touch today:
Contact Us Today
Give us a call on 01624 629940 to find out more about the advantage of our awnings and canopies. If you have any other questions you can also fill out the enquiry form on our contact page today for more information.