If you own a business and use commercial office space, you must maintain a professional appearance and keep all your staff happy at the same time. One of the main things that business owners forget about when designing their commercial space is the window coverings. However, the decision you make on dressing your windows can have a massive effect on the atmosphere of your workplace, staff productivity, and general business happiness.
Professionalism
Vertical blinds add an element of professionalism to your office space. They provide an executive and sleek look.
Screen Glare
It's important that your staff are happy and comfortable in their office space to maintain maximum productivity. Vertical blinds can block out the sun's rays and eliminate screen glare, which is a great way to improve comfort levels in the workplace.
Security
Vertical blinds can allow in light but also provide an element of security during the day if your business holds sensitive information. People walking by won't be able to peer into your office to obtain any information. Bespoke blinds that perfectly fit the window space add privacy to your workplace, whatever industry you work in.
Flexibility
Vertical blinds are the most flexible blinds out there. They can be fully closed, turned sideways against the window to let sunlight in, but vertical blinds also block annoying sun glares on computer screens. They can even be drawn back to expose the full window and brighten your workspace. If you have a particularly sunny area in the office, you can block out this area, while still allowing in light in other areas. They're the ultimate blind solution for the office because they're so versatile.
Material
Vertical blinds come in a variety of materials to suit any workplace. They come in fine material to let the light in, blackout material which is great for privacy, or even waterproof fabric if you have a business that's likely to have damp areas.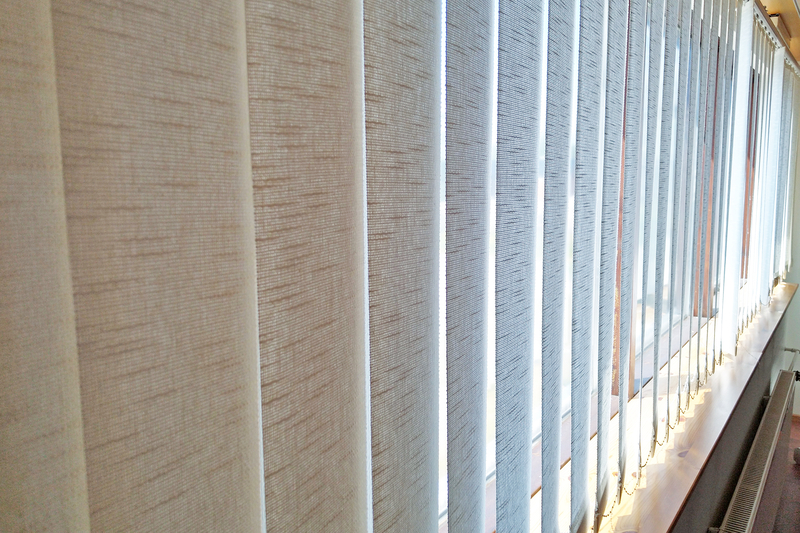 Buying Bespoke Blinds
Using a company, like us at Talbot & Son to make your bespoke blinds is a great idea to ensure you get perfectly made to measure vertical blinds. We manufacture vertical blinds right here in our premises using the highest quality fabric and components, meaning you have the best possible quality product. You can choose blinds in a colour that matches your business's brand to kit out your office professionally and show your colours to the outside world too.
Having bespoke vertical blinds made by expert blind designers will also ensure that your whole office is measured up correctly. If you have an office in an older building, it may be that some of your windows are different sizes, making it hard to buy blinds off-the-shelf without leaving gaps. Our surveyors will visit your workplace and measure up every window for you so you can be confident you've got the perfect fit. 
If you would like to find out more about Talbot & Son's bespoke vertical blinds, give us a call on 01624 629940 or head over to our contact page for more details.